French chefs, freshly inducted to the Michelin-Star club in 2019, meet in Berlin for exceptional and exclusive events. The chiefs will be supported by Frederik Jagla and Iannis Ritter (Barkin' Kitchen), who completed their training in the Berlin Adlon.
A 5-course meal. Priced at 135€ (plus 50€ for the the wine-pairing).
The content of the menu will be announced shortly.

GUIDE MICHELIN 2019
As his parents owned a restaurant, Nicolas Gautier was immersed in the culinary world since his childhood. The only chef that inspired him was his own father, however his favourite remains Michel Bras (2* at Laguiole) for his raw and avant-garde cooking, close to nature.
Nature, is the name given to his restaurant in Armentières (Picardie, North of France) where he received his first Michelin-star in January 2019, after being opened for just one year. This recognition celebrates his artistic talent, already highlighted by the Gault et Millau (he was twice elected "Gault et Millau young talent") and he was previously officiating as chef in another Michelin-star restaurant, La Laiterie in Lambersart, also in the North of France.
Nature as in the natural way in which things need to be done ; Nature always, inspiring his motto, running against the expected style of a chef with sophisticated cuisine, since his favourite product is beetroot and his signature dish is the Welsh (but emulsified).
Lightly smoked Scallops, Flanders-style squab with salsify, black chocolate with candied chicory endives in Suze are all part of the chef's specialities. For this occasion, we have asked him to prepare a special 5-course meal where he will be assisted by Claude Trendel from Le Piaf Gourmand and Frederick Jagla from Barkin Kitchen.
The wine-pairing will be selected by sommelier Helen Mol.

GUIDE MICHELIN 2019
Tuesday November 26th, 2019
Flinsberger Pl. 8, 14193 Berlin
Menu
Amuse Bouche
&
Pike-perch gyoza ravioli,
burned Brussels-sprout leaves.
&
Oven-cooked Arctic char,
in green aniseed, red beet, black sesame and mango.
&
Japanese Dashi, steamed crayfish,
pointed head cabbages, lemon & almond brioche.
&
Venison filet,
juniper juice, mini salsifi, quince and barley biscuits.
&
Rhubarb-floss shortbread,
lavander, clotted milk, Sicily lemon sorbet and azuki macaron, fresh coriander.
&
Digestif
SHARING IS CARING
Jacky Ribault's new restaurant, for which he received a Michelin star this year, is called l'Ours (the Bear, the symbol of Berlin)! So it didn't take us long to convince him to come over and introduce us to his culinary world.
This idea of sharing is something Jacky has cultivated from his farmhouse background. Sentimentally attached to the soil and to the work of small farmers and artisan fishermen, he relentlessly showcases their ancestral know-how. An act of continuity since his first restaurant,  Qui Plume la Lune, which he opened in Paris 2010  and where he received his first Michelin star in 2014.
Whether in Paris or in nearby Vincennes, the chef, trained in Brittany, then Chamonix, Gstaad, Zurich, Tokyo and Sendai, makes the best of the products at hand, with a single goal in mind: give pleasure. And how best to do that : simply by taking pleasure in the process with his preferred signature craft : let the products do the talking.

GUIDE MICHELIN 2019
Tuesday, the 17th of  September 2019


Menu
Half-cooked red tuna
Aubergines in black-rice vinegar & prune iced-broth
&
Duck fois-gras in gamberro rosso ravioli
Porcini mushroom purée, Parmigiano Reggiano & dried capers
Sparkling mushroom broth in vervain
&
Pike-perch from Brandenburg lake
Green pepper & pistachio coulis
Green & Red-coco beans spiced with a Pil Pil sauce
&
Noisette-cut roast of local venison
Celeriac, small onions & hazelnut crumble
Ponzu-sauce in blackberry juice
&
Reverse Ile flottante
with Saint-Jean truffles & caramelized hazelnuts
For Jeremy, coming to Berlin feels a little like going back to his roots, to a familiar surrounding. In the North of France, where he grew up to this cross-border culture: Exchanges fuel his work, in his life as well as in the kitchen…Indeed it turns out that his wife is German and his idol is Dirk Nowitzki.
He draws his inspiration from the people he crosses and exchanges with : producers, farmers and markets.
"Every time I create a dish, the ingredients lead the way. Every Tuesday and Friday, I visit the market of Saint-Cyr-sur-Mer, and get inspired by these ritual habits".
This is why we organised a "terroir" exploration through the Brandenburg countryside for Jeremy's next visit. We have planned to meet fishermen from the Berlin lakes, hunters, pig farmers or permaculture-herb growers for a delightful unlikely meeting between the Mediterranean signature of the city of Bandol and the authentic products of the Brandenburg country.
We are ever so eager to get a taste of this culinary discussion between the terroir of his new country, the South of France and of that of his more Eastern roots.
Menu
Crunchy green asparagus,
dried brocciu and pine ashes.
&
Marinated fish on a transparent cedrat citrus,
bottarga fish-roe and virgin olive oil.
&
Safran Acquarello risotto,
Brandenburg honey and cypress oil.
&
Cuttlefish cooked in its ink,
and cauliflower texture, lemon zests and samphire.
&
Chartreuse pork-filet mignon,
potato mousseline purée and white asparagus
&
Death by chocolate.
Following his experiences at the Hôtel Royal in Évian-les-Bains, the Greenhouse in London and David Bisseto's restaurant, le Casadelmar in Porto-Vecchio, Julien Diaz went on to become the chef at Troubadour, the Marina di Cavu before joining the starred restaurant l'Oggi. After 12 years living in Corsica he started his own adventure in his native city of Marseille.
Working alongside the talented sommelier Guillaume Bonneaud, a close friend, Julien quickly earned the recognition of Gault et Millau with the Young talent trophy before being selected by the 2019 Guide Michelin.
Flavours and aromas inspired from Corsica, food with a fierce Mediterranean influence, a chef of Italian and Spanish origins, all the ingredients that make Saisons a place full of sunshine and generosity. A colourful scent, a shape, a taste, herbs handpicked on a stroll, talking to producers, have all fed Julien's culinary creativity and helped him come up with one-of-a-kind dishes.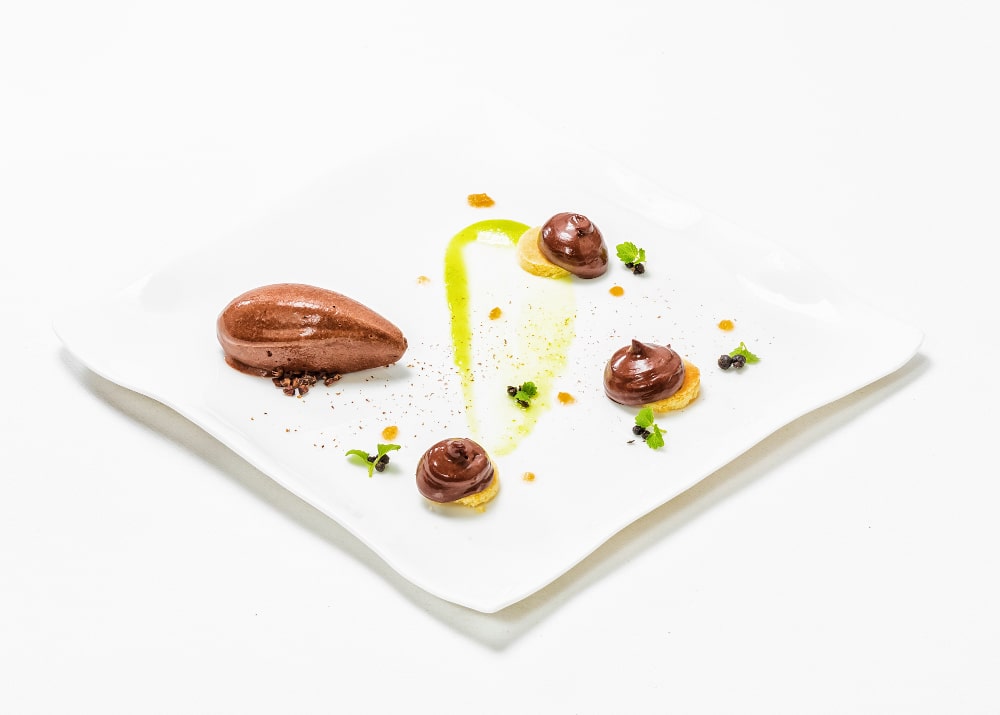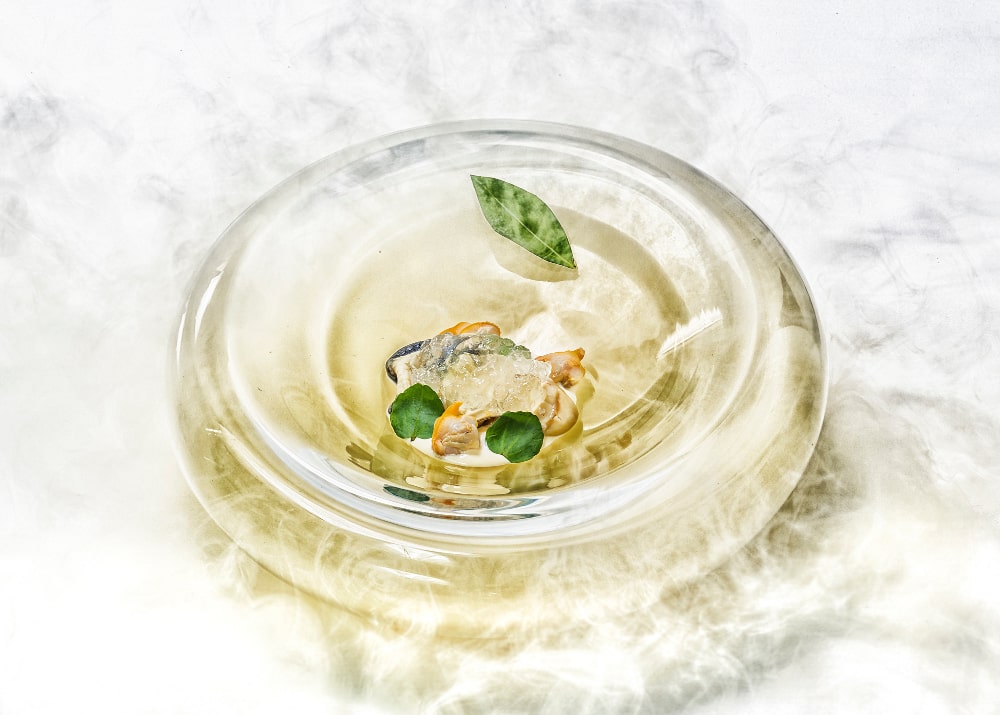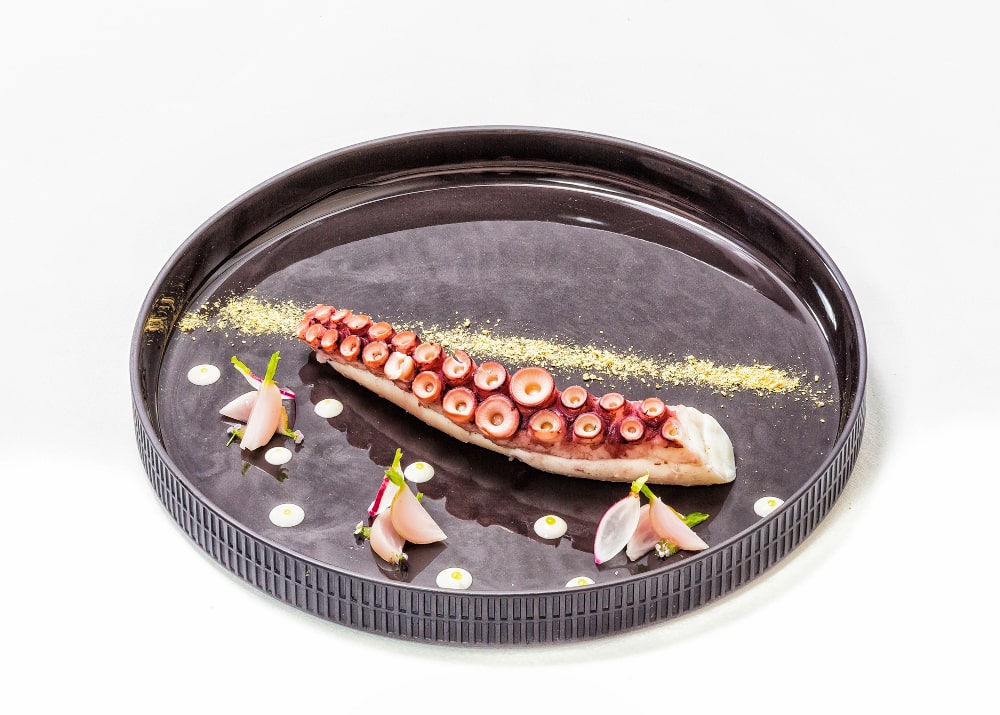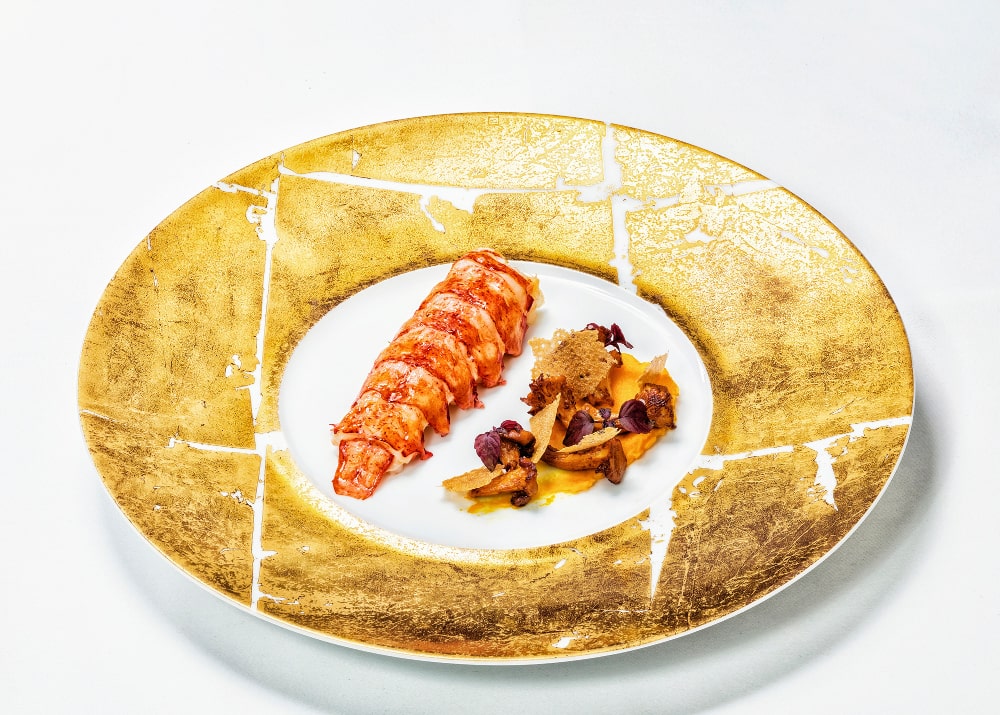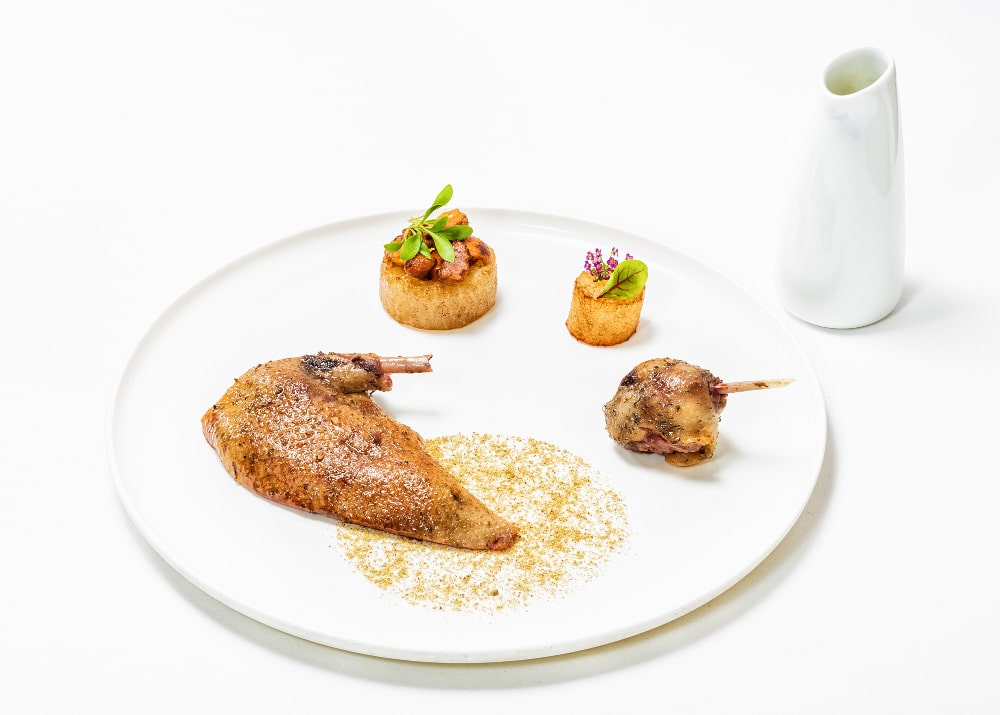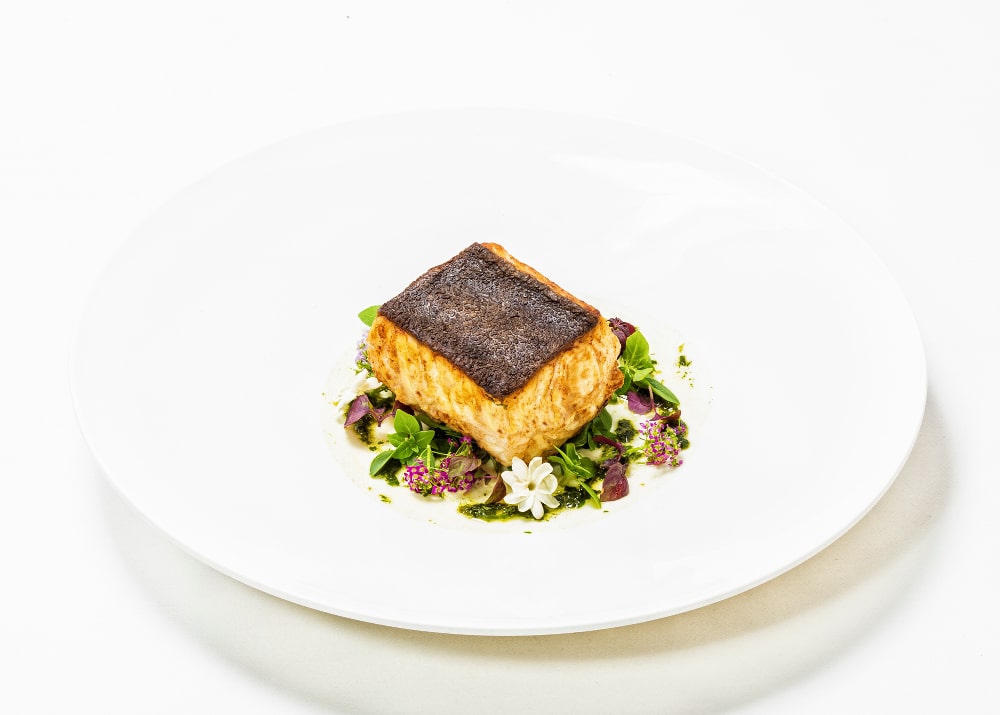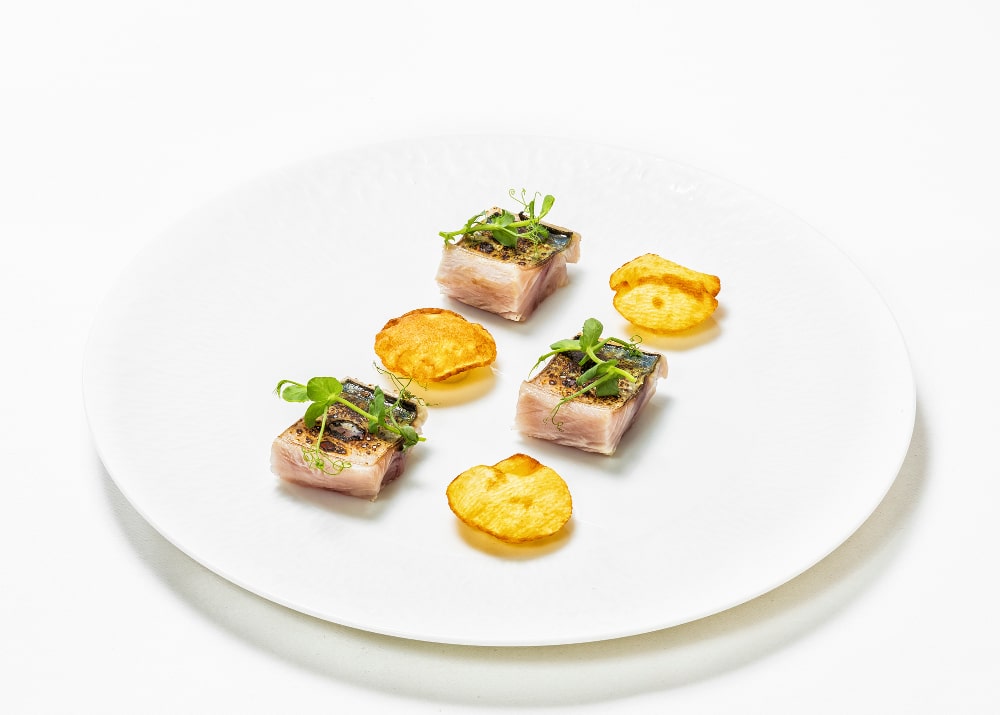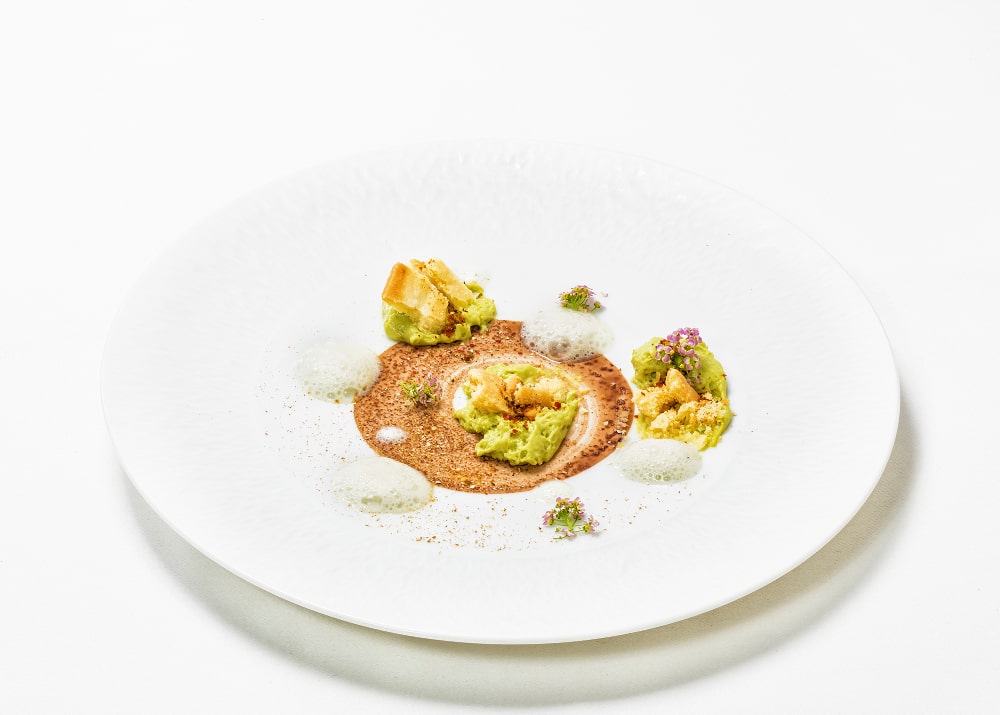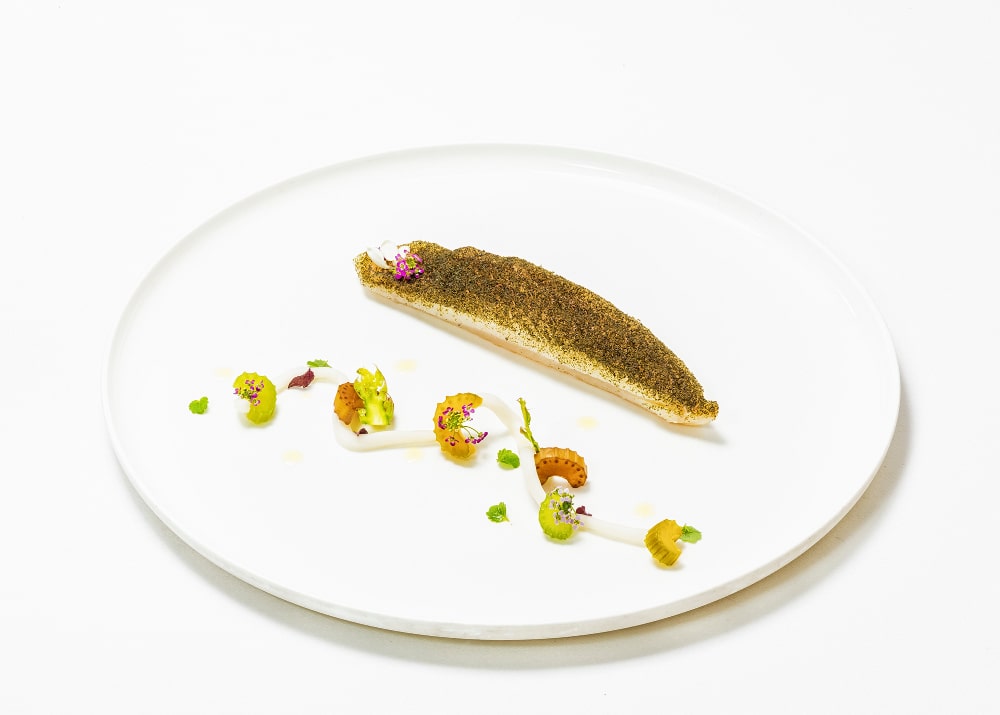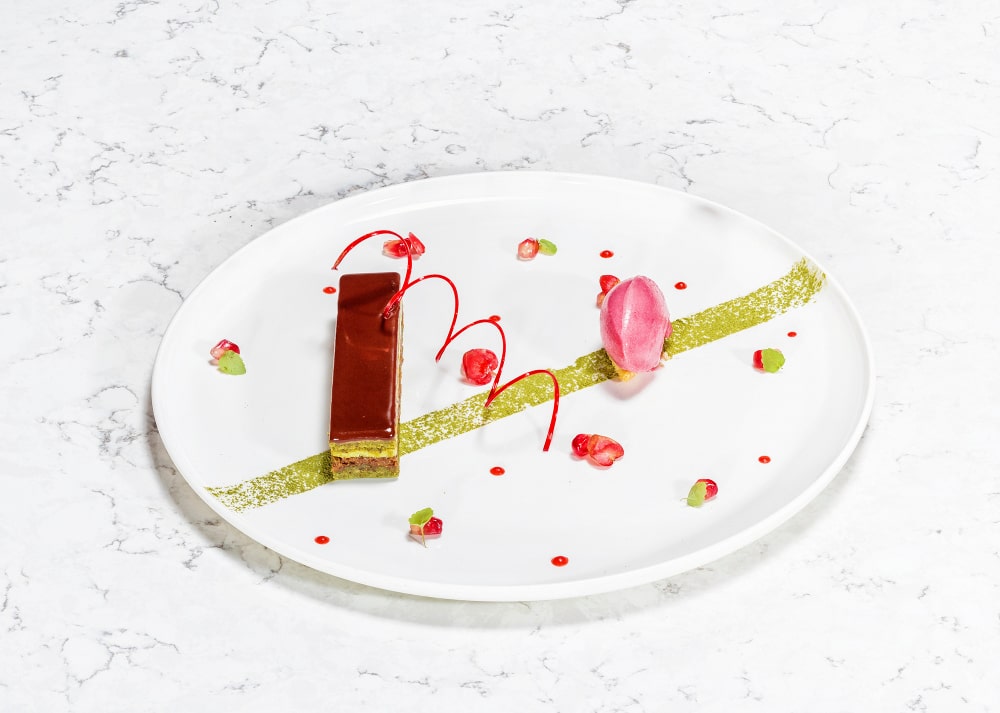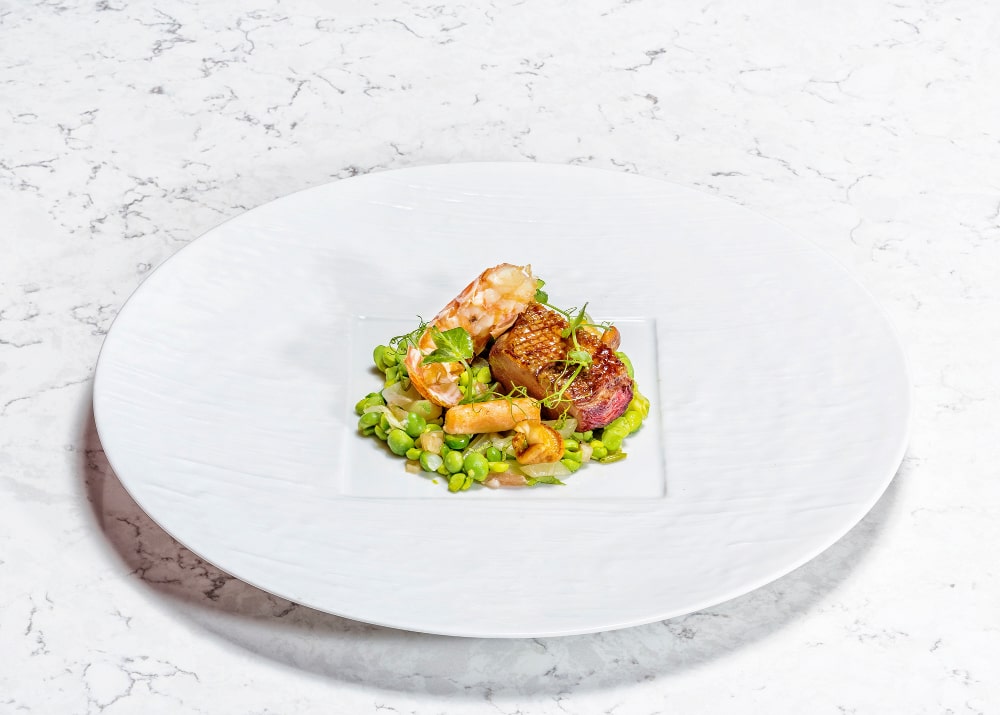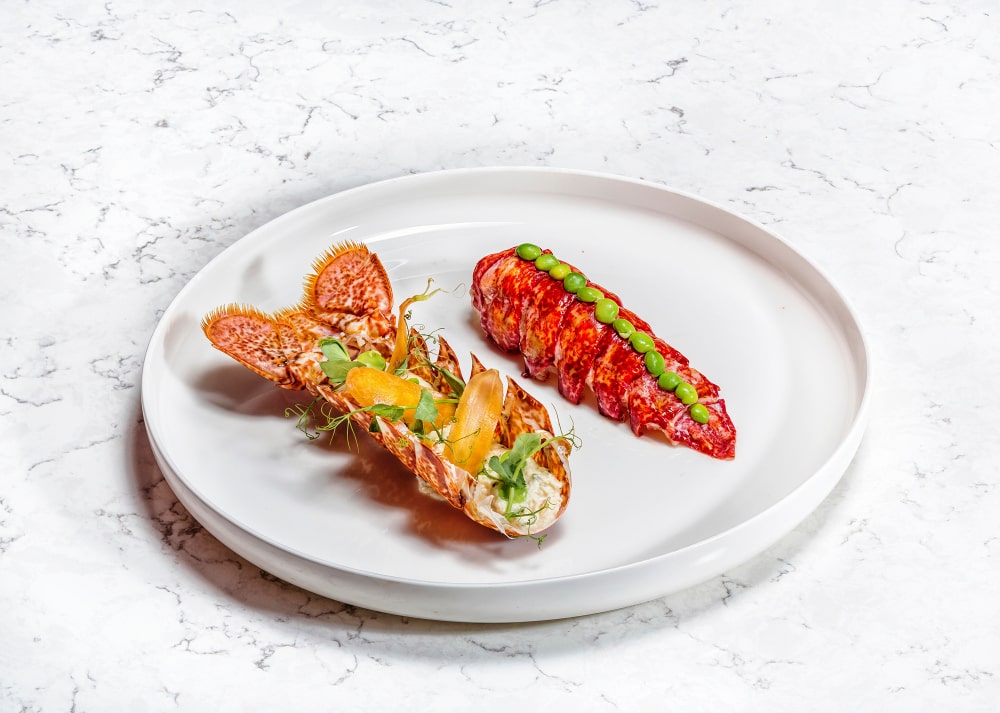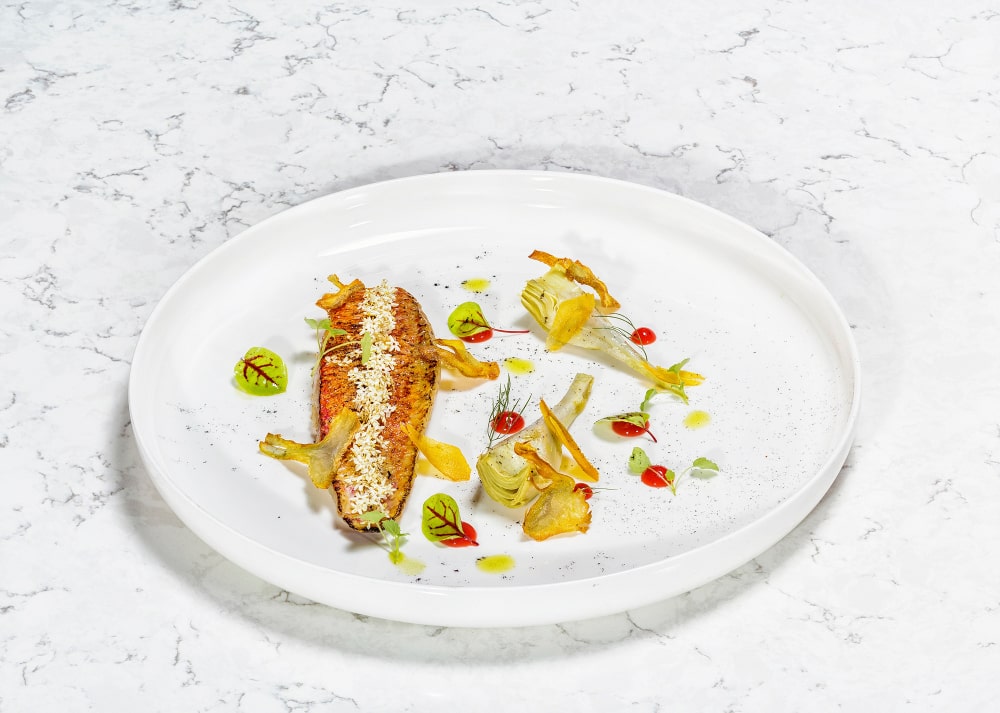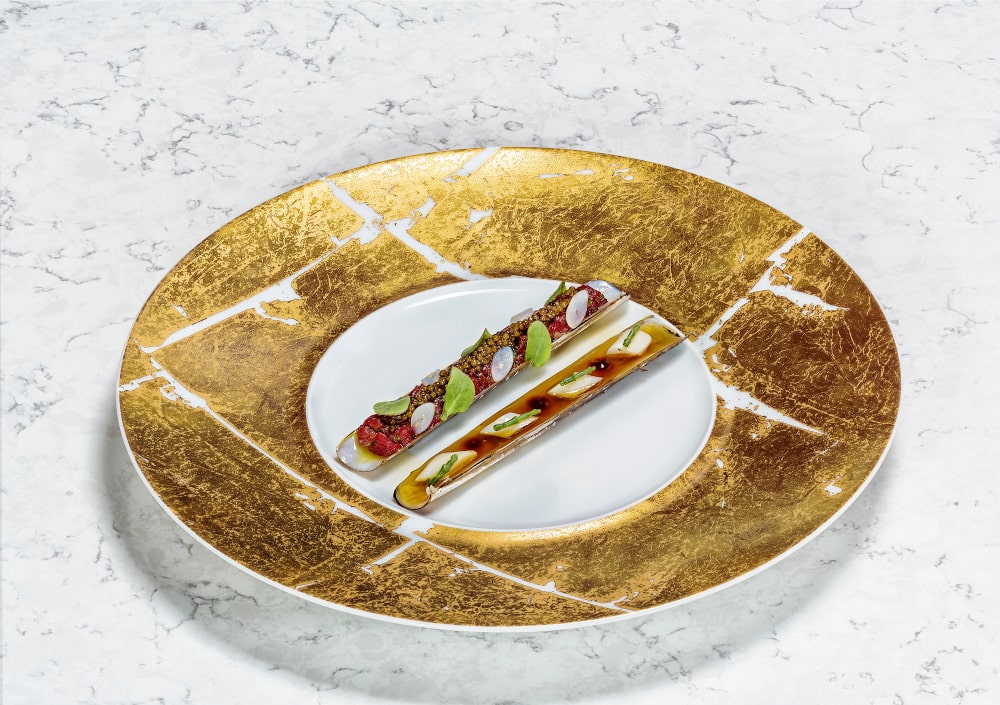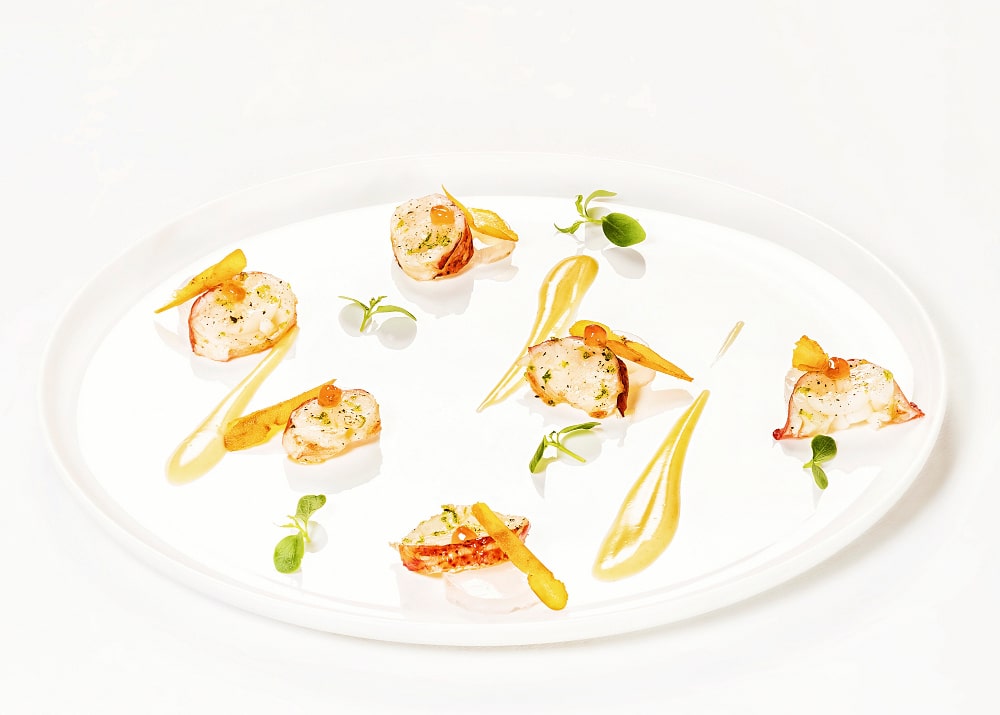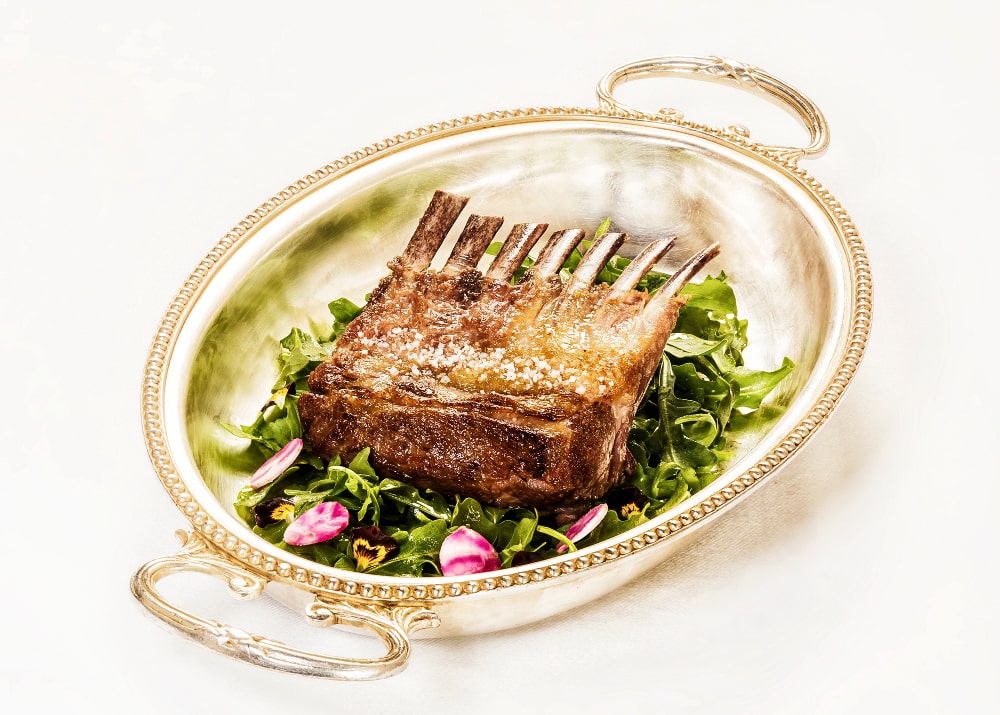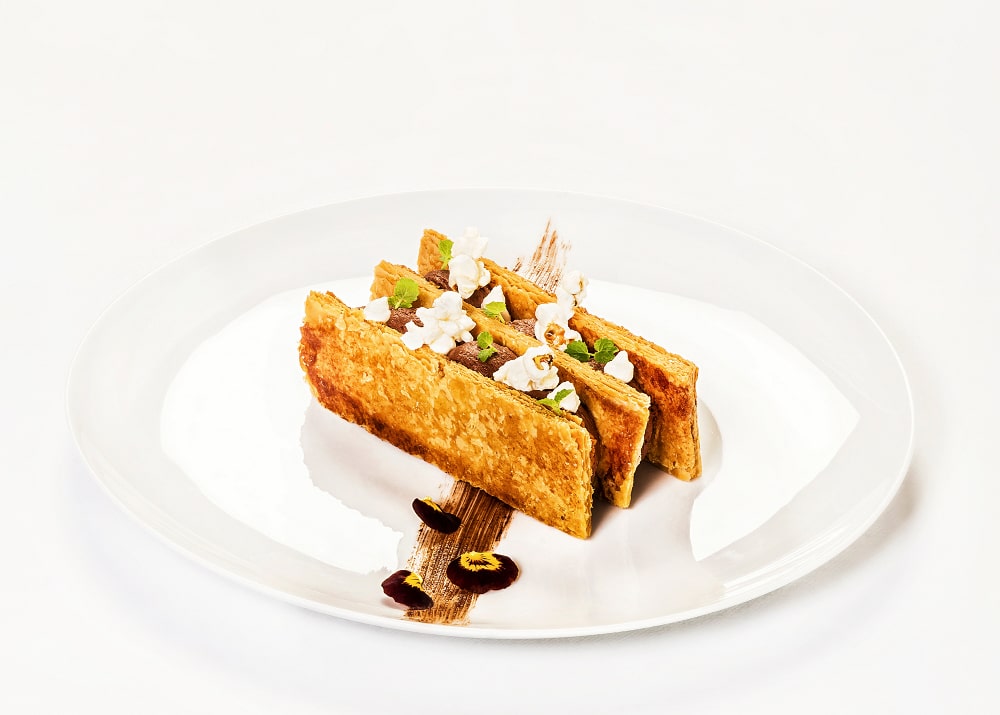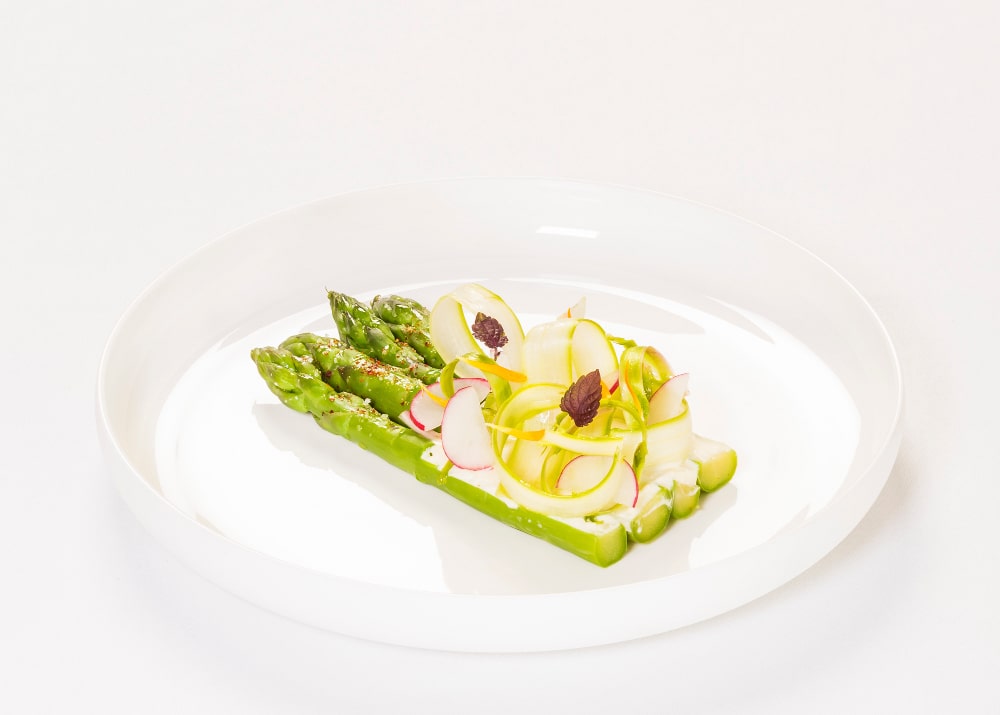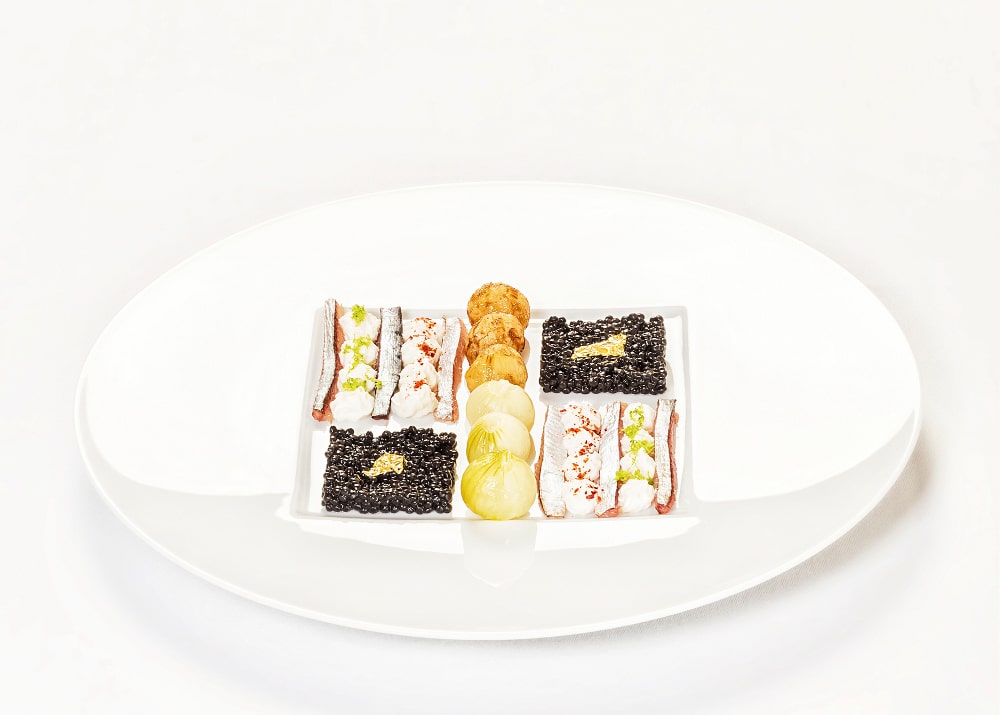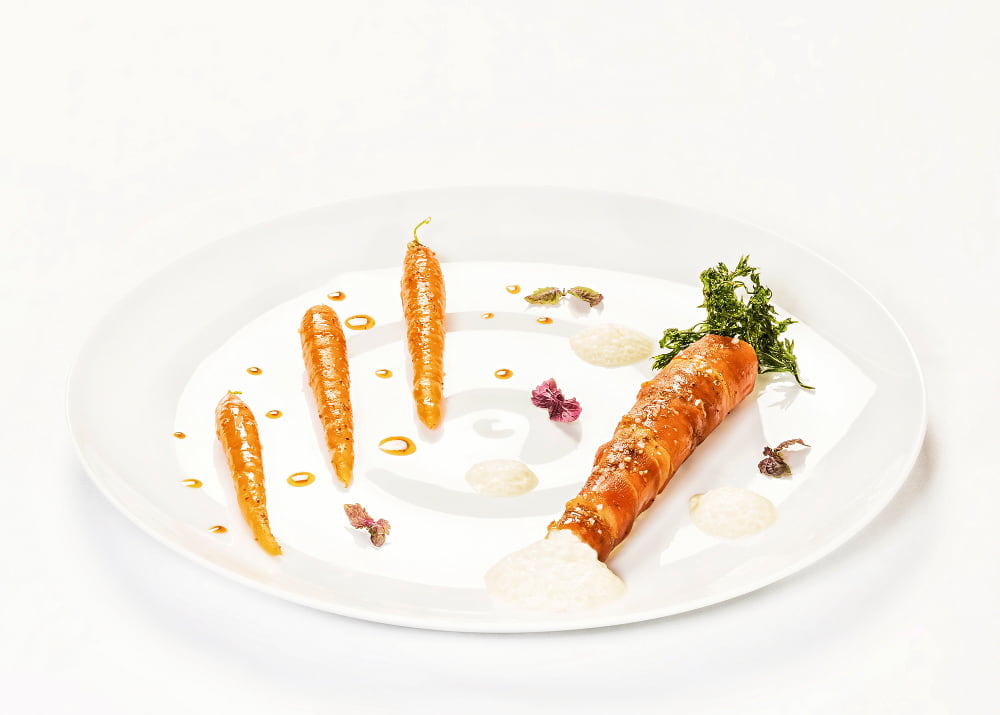 We are excited to hear your wishes, ideas and feedback, please feel free to write to us here !